Troubleshoot Issues of Installing Tiny Mode on Unity 2019.1
Introduction
According to documentation, Tiny Mode package was implemented on Unity 2018.3 initially, maybe that's why I encountered some issues while installing the package on Unity 2019.1. The following are the issues and the fixes.
Version
Unity 2019.1.4f1
Tiny Mode 0.14.5-preview
Troubleshooting
Error occurs right after installing the Tiny Mode package
Library\PackageCache\com.unity.tiny@0.14.5-preview\Editor\Export\TinyAssetExporter.cs(712,38): error CS1061: 'TMP_FontAsset' does not contain a definition for 'characterDictionary' and no accessible extension method 'characterDictionary' accepting a first argument of type 'TMP_FontAsset' could be found (are you missing a using directive or an assembly reference?)

Current version of Tiny Mode doesn't support the latest TextMeshPro. We need to downgrade the TextMeshPro to 1.3.0 like the image below.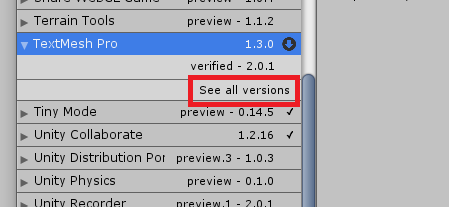 Failed to execute Import Samples in the menu of Tiny Mode
Exception: Failed to update dependencies:
TINY SHELL> D:\Temp\TinyMode Test\Tiny\Dist
SET PATH=C:\Program Files\Unity\Hub\Editor\2019.1.4f1\Editor\Data\MonoBleedingEdge\bin;%PATH%
bee.exe
[32m[     0s] [0mBuild frontend of artifacts/buildprogram/tundra_buildprogram.dag ran (no suitable previous build dag file)
[32m[1/8  0s] [0mCSProject build.gen.csproj
[32m[2/8  0s] [0mVisualStudioSolution build.gen.sln
[32m[3/8  0s] [0mWriteResponseFile artifacts/rsp/22013569038166155

Make sure the project path doesn't contain any space.
Can't find the Workshop folder mentioned in the workshop video
The Workshop folder mentioned in the video was for demonstration. The full version of the project can be found at /Assets/TinySamples/BasicWorkshop.
There is no MainGroup in the scene of BasicWorkshop project
MainGroup and other EntityGroup were placed in the /Assets/TinySamples/BasicWorkshop/Entities.
Reference